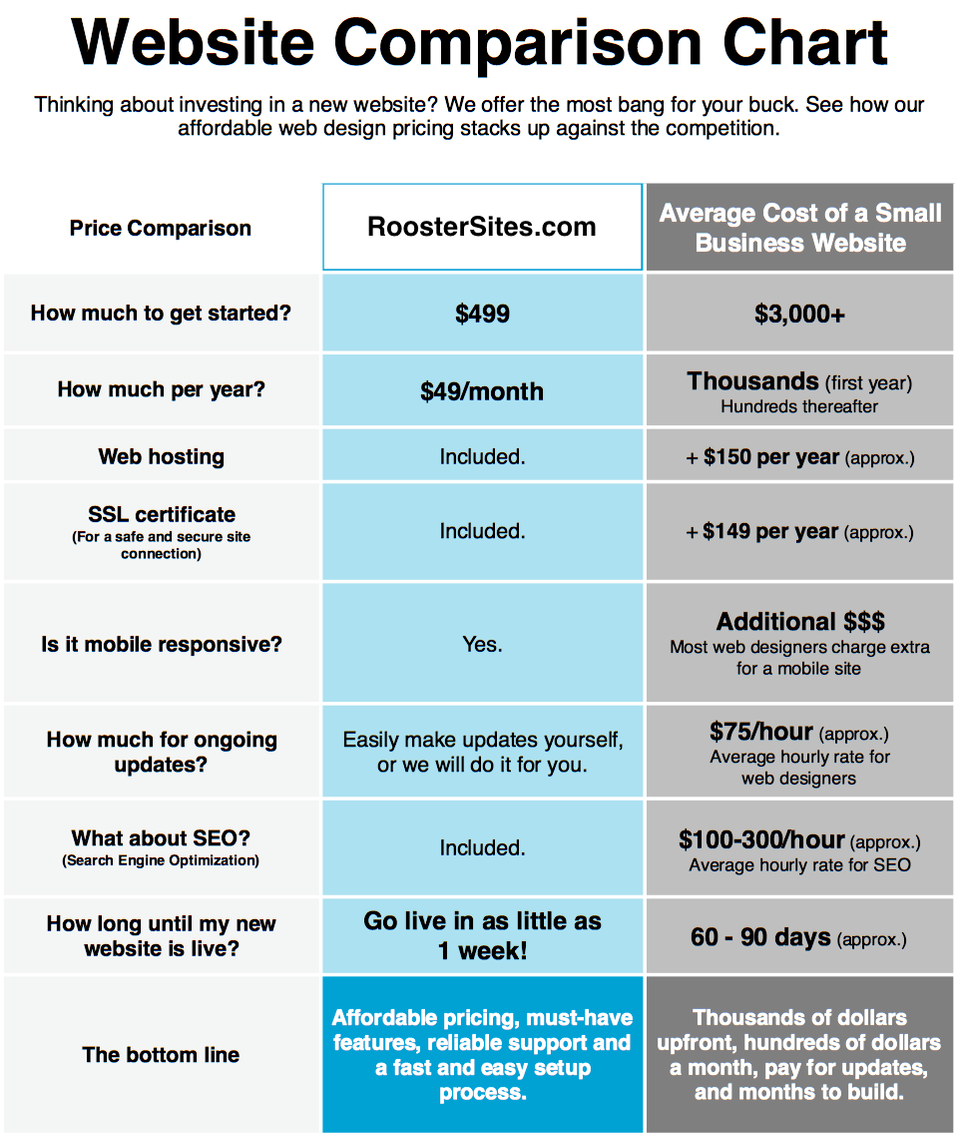 How much does a website cost?
The cost of a website can range from $0 to well over $100,000. The top end price is enough to give anyone sticker shock and the bottom end price…well who doesn't love that? But as you can guess, there is a big difference between the two. It's kind of like comparing a bicycle and a Rolls Royce. Both are used to get you from one place to another, it just depends on where you are going and how you want to get there. Different businesses require different websites. First we will explore three ways websites are commonly built, then give you a few examples and tell you what you need to know about each of these.
How is a Website Built?
As stated above, there are three primary ways to build a website: one line of code at a time, a content management system or a DIY software tool. At 
allySites
, we have used all three at different times, depending on the needs of the business or the project. Let's take a look at each of these methods in a little more depth, including the cost comparisons of each.
1. One line of code at a time. 
There are many advantages of building your website one line of code at a time. The main advantage is that you have 100% control over the look, feel and features of the site. A team of professionals work together to make your site look good and work even better. Front-end designers create the appearance of your website, including color themes, layouts, navigation bars, photos and much more. Back-end programmers, also known as coders, make all the bells and whistles work. Things like buttons, links, slideshows, shopping carts, drop-down menus, etc. A full-time project manager is also a necessity to bring it all together. Think of this person as a foreman on a construction site. He will oversee the entire project and ensure everything fits together. The development cost for this type of website will range from $85 to $200 per hour depending on the skill sets required to meet your needs, which in some instances can easily top $100,000 in total cost. Each website is unique and will have different requirements, thus the broad range of price. The cost of monthly hosting for this type of website could range from a few dollars for a website with a small amount of content, to thousands of dollars for a classified website like 
www.Exchange931.com
.
   What you need to know
—        
How much will this cost?
                 Design & Development - $85-$200 per hour
                 Monthly Hosting - $200-$5000 per month
                 *Content Creation - Your team or sellers on your platform.        
Who does this work well for? 
Large businesses with content that requires continuous updates such as classified ads or custom e-commerce. Check out
www.exchange931.com
for an example.
       Overview - 
This type of approach to website development is expensive and not required by 98% of businesses.
2. Content management system. 
A content management system (CMS) is software that allows you to edit the content on your website. Websites are built using templates and pre-built pieces of code created by other developers (aka plug-ins), into which your business content is added. WordPress and Joomla are two of the most popular CMSs, with WordPress powering over 25% of the websites on the internet. For instance, if you wanted a directory listings for a chamber website, you could use a plug-in to create a directory listings database. This would save your developer the time from creating the database and functionality from scratch. Another example is a shopping cart feature. Instead of creating a custom solution, your developer could use a pre built plug-in. However, there is a downside of having to maintain multiple plug-ins as they do occasionally break. Additionally, when the CMS updates, the plug-ins will need to be updated as well in order to stay secure. A CMS can be a useful tool if you have a good developer and have unique needs. It is important to choose a developer who has extensive prior experience with your particular CMS. Usually, website developers will give you a bid to create a website using a popular CMS. A WordPress website will start around $3,000 and could reach $20,000 with a lot of customization. Once the website is completed, the only mandatory monthly cost would be a hosting fee. Also, any changes to the website would have to be made by a developer, which would cost anywhere from $85-$200 per hour. CMSs like WordPress and Joomla give you flexibility when building your website but require more development time, costing more money to maintain. They also don't make your website easy to edit unless you use the software all of the time which allows you to become very familiar with how it works. They will require less investment over time than a custom built website but more than the next solution, DIY software tools.
   What you need to know
—        
How much will this cost?
                 Design & Development - $85-$200 per hour
                 Monthly Hosting - $10-$300 per month
                 *Content Creation - Your team.        
Who does this work well for? 
Businesses who have multiple users with dedicated time for maintaining their website. Check out 
https://fourhourchef.com/
for an example.        
Overview - 
We tried at one time to use content management software, but found it difficult to maintain the constant software updates and for our clients to edit any of the content on their website.
3. DIY software tool
. DIY software tools for website creation have evolved rapidly which is good for the consumer. They provide a variety of options according to the needs of the business. Website tools like Wix and Weebly focus mostly on general business websites and provide a nice start for a basic site. One word of caution here—these are basic sites, the heavy work begins after you start your site. SquareSpace, BigCommerce, and Shopify focus on e-commerce. E-commerce focused companies offer integrations with shipping companies and sales tax databases. E-commerce solutions can become complicated because there are numerous variables when it comes to selling online. These DIY website solutions do not require an upfront investment and give discounts on monthly fees, if paid annually. Wix starts at $5/month, but their most popular plan is $14/month. Weebly starts at $8/month and a Business level website is $25/month. For e-commerce, Squarespace starts at $26, Shopify $29 and BigCommerce at $30. As you can see, the prices are all over the place and the features offered vary at the different price levels. It is important to remember that these website solutions only give you the software to build a website, they do not include the designing of your website and content creation. We encounter a lot of business owners who think that using these tools will make website creation easy. However, many times they find that having to learn the software and create the content is much too time-consuming. Think about this, the business owner already had a full-time job before they needed a website. So they don't have time to learn a new skill.   
What you need to know
—        
How much will this cost?
                 Design & Development - It's all you, whatever your time is worth.
                 Monthly Hosting - $7-$85 per month
                 *Content Creation - You must create all of your content. Check out 
http://www.shortbreadnyc.com/
 for an example of a Wix website.         
Who does this work well for? 
A variety of businesses.         
Overview - 
We like to compare a DIY website to DIY plumbing. I can plumb my own house, but it will take me longer than a professional plumber. I will also have to buy the tools required. In addition, learning the software and creating the content is time-consuming. What is your time worth?
The upfront cost of a website, which is where most people think they to spend money, greatly varies depending on their needs. However, a topic we have not addressed up to this point is content creation.This is where we see most businesses invest too little. 
Content is the number one factor that brings traffic to your website
 and retains traffic on your website (read our article on 
website content ideas
). Unfortunately, most people never create the in-depth content that is required to rank well in their markets. A shiny new Camero better have a fast engine to back it up and a shiny new website is no different. To be successful with content creation, you need to take a long-term approach and allocate the appropriate budget. The need for content creation and strategy is the core reason agencies like ours exist. We utilize website design tools that require our customers to have no programming knowledge (option # 3 above) and then help to create a strategy to keep the engine humming. Our value is understanding how content should be created and developing the path for you to be successful.