How to Setup an Online Store (Powered by PayPal)
Our E-Commerce feature is powered by PayPal and makes selling products and services on your website quick and easy. We streamlined the process of setting up an online store so you can instantly start selling without all of the hassles associated with E-Commerce. This feature is perfect for anyone just starting their online store or for businesses looking to sell a small number of products on their website.
It requires the store owner to have a PayPal account in order to work. You will need to enter this PayPal Merchant ID / Email on the Site Details screen of the dashboard in order to activate the online store for a website. 
Submit a support ticket with your PayPal Email and we'll get this activated.   NO ADDITIONAL FEES
How to Add Products to an Online Store
STEP 1
Once you've entered a valid PayPal Merchant ID and successfully activated an online store, you will now see a new "
Link
" option available, labeled "
Online Store
". This link is accessible from any button on your website. For example, you can display a product using the 
Image Post
 and adding a button to "Add to Cart".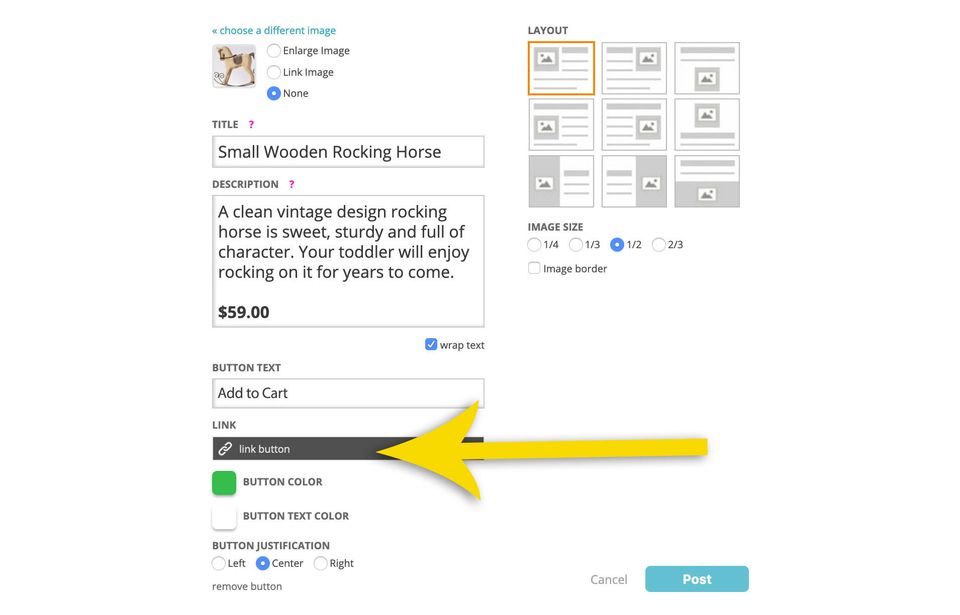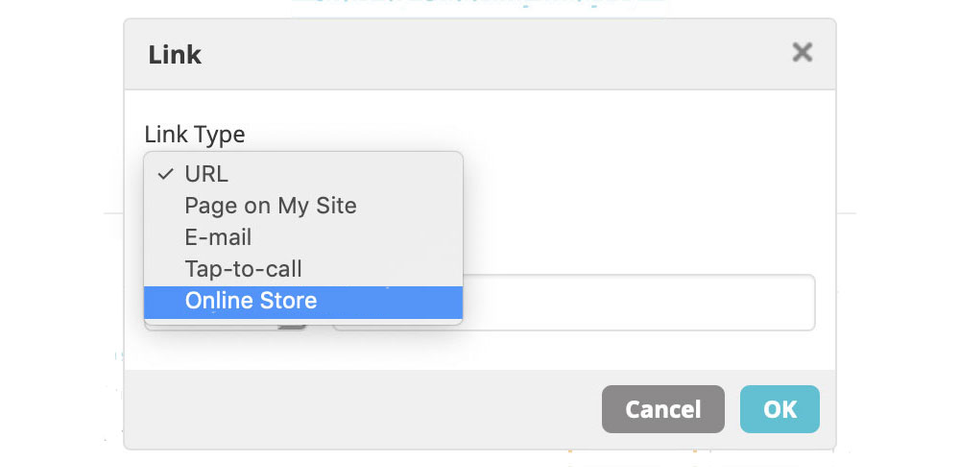 STEP 2
When you choose the "
Online Store
" link option, you will be prompted to 
Choose a Product 
if you have already added one, or simply "
Add a New Product
".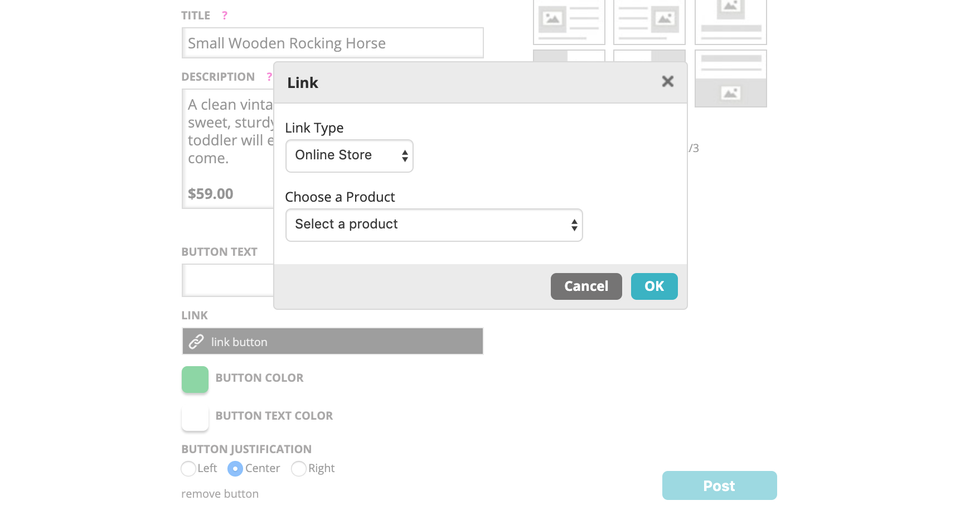 STEP 3
When you add a new product, you will prompted for the
 Product Name
, 
Price
, 
Shipping Cost 
(optional), and 
Tax Percentage
 (optional). You can also turn on 
Quantity Selection
 which allows customers to add multiple products to their cart at once, or even add 
Product Options
 (discussed below).
PLEASE NOTE:
PayPal limits the Product Name + Option to 127 characters. It's best to keep these fields short and concise. You can always add additional information to the post itself.
We currently offer only one Shipping Cost option and it's a flat rate per item. It's ideal for most businesses who need a simple way to charge shipping that's easy for customers to understand.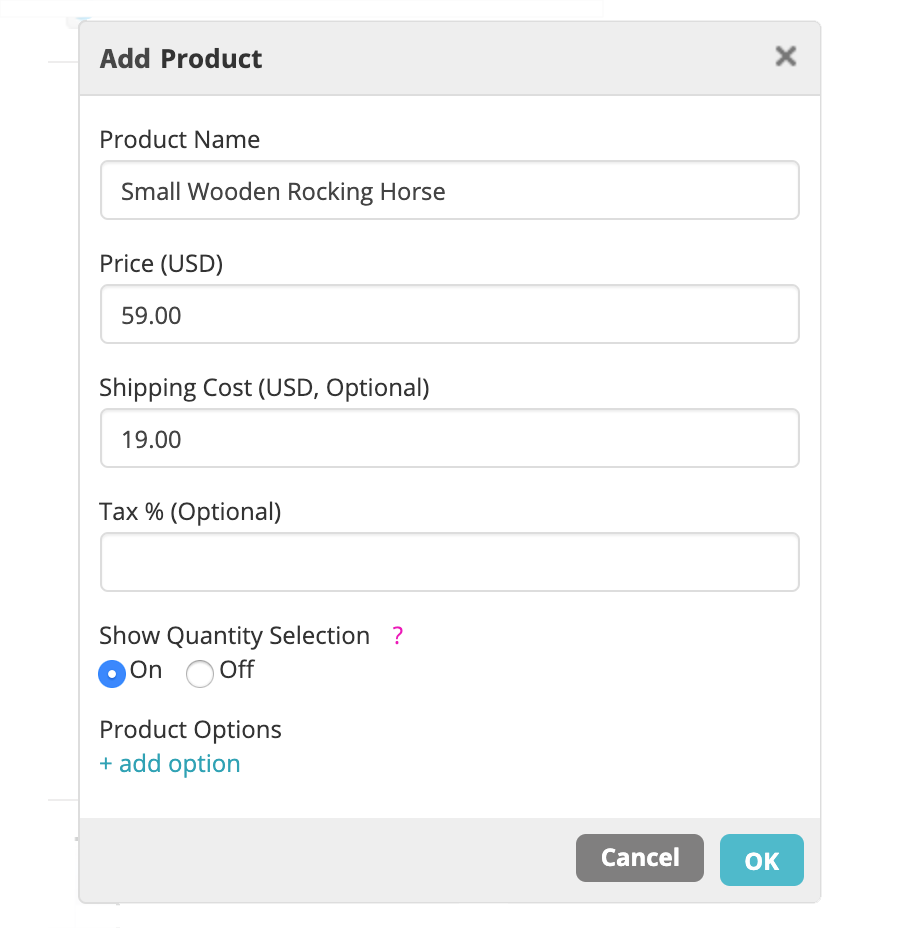 STEP 4
Click "
Product Options
" if you would like to offer different variations, colors, sizes, etc. You will also be able to assign a unique price for each option.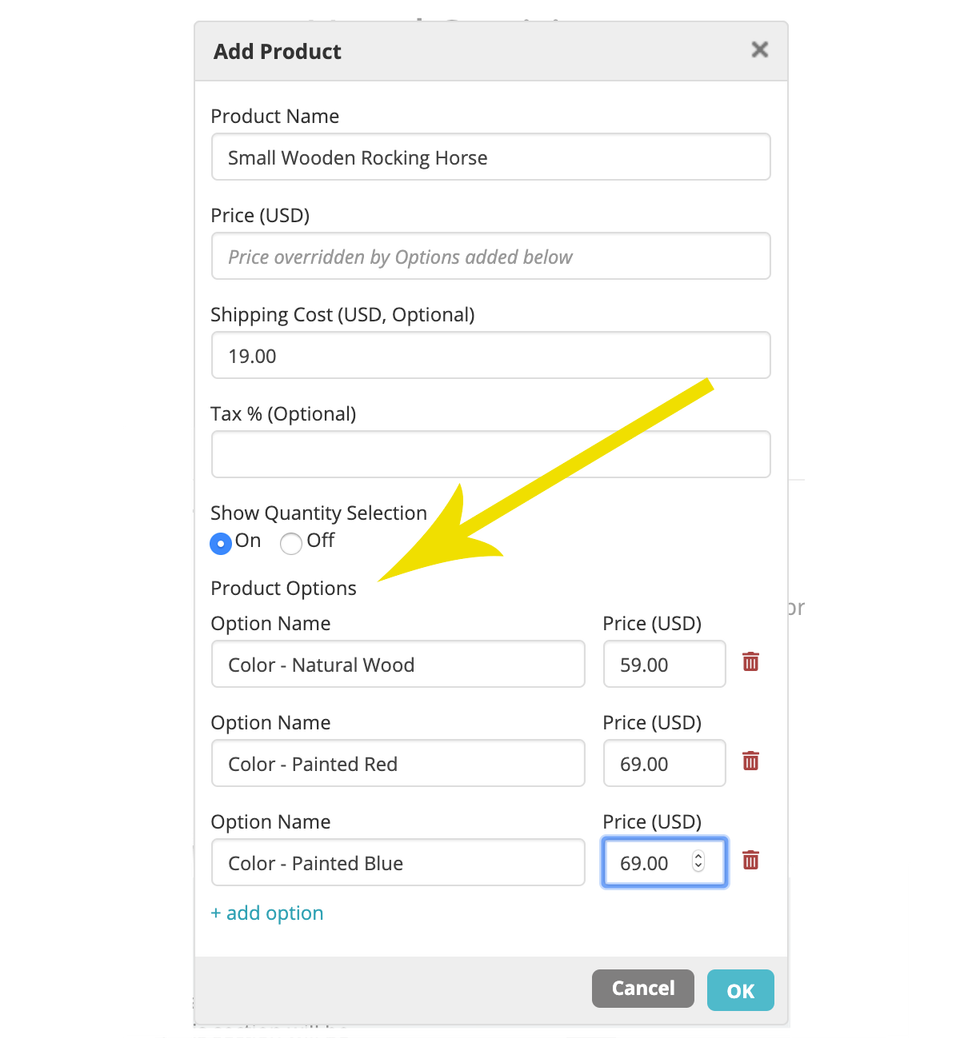 STEP 5
Add the product and post to your site. Customers will now be able to purchase this product from your website.

Online Store Order Notifications & Customer Receipts
When a customer places an online order from your client's website, the money will automatically be deposited into the seller's PayPal account, and the store owner will receive an email that contains the order details and customer shipping information. This email is automatically sent to the email address associated with the PayPal account that was used to setup the online store.
In addition, an email "receipt" will also be sent to the customer from Pay Pal confirming the transaction.

PLEASE NOTE: It is the store owner's responsibility to fulfill the order and communicate with the customer regarding any problems or updates with their order.

Below is an example of what the seller order notification and customer receipt emails look like.

Seller Online Order Notification (Example)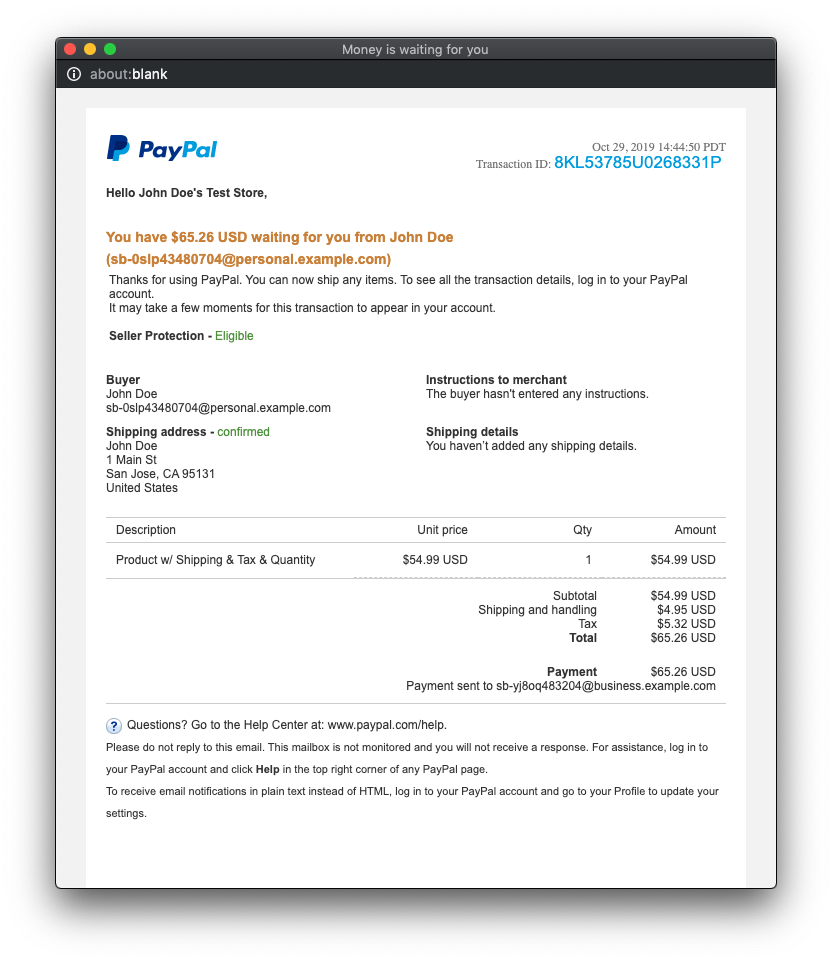 Customer Online Order Receipt (Example)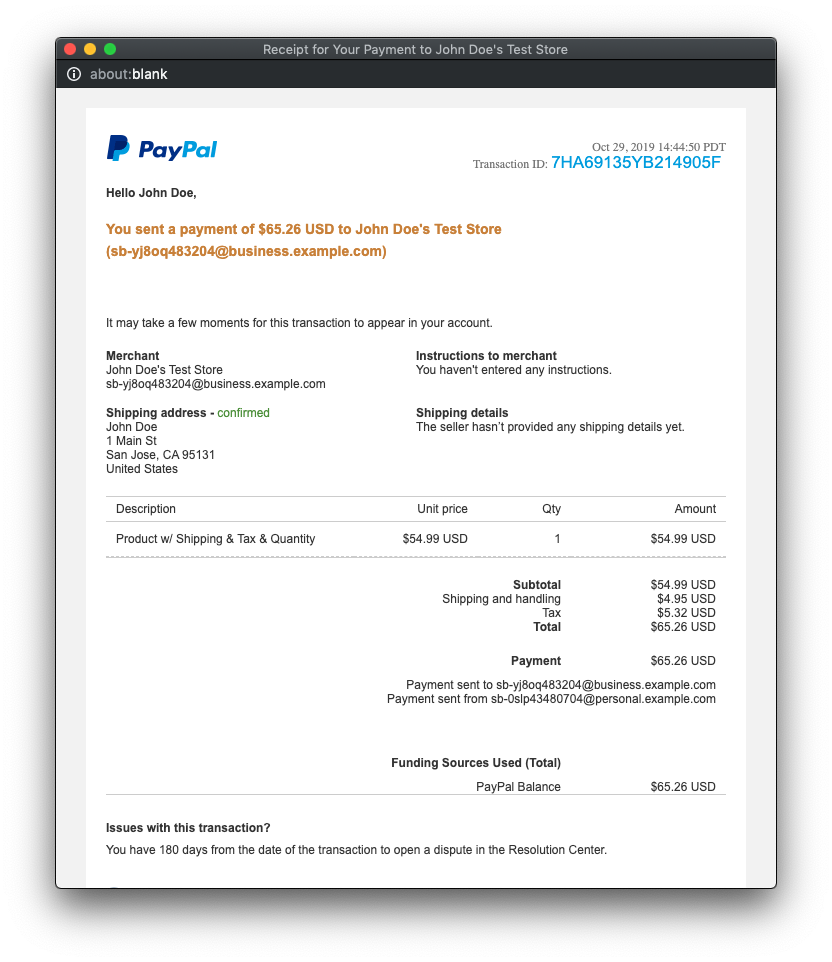 How do I add online food ordering to a restaurant's website?
If you would like to add online ordering to a restaurant's website, you have several different options to choose from. The easiest and most popular option is to simply link to restaurant profile(s) established on 
GrubHub
, 
DoorDash
 and/or 
Uber Eats
, etc. You'll find that a lot of restaurants are already offering online ordering through one or more of these platforms, so it makes sense just to create a link on their website. The benefits of doing this is that it's easy to setup, the technology is already in place, and each one of these online ordering apps comes with a built-in audience of hungry customers. Also, these apps will even make the deliveries so the restaurants just need to focus on fulfilling orders.
Here are a few examples of how that might look:
https://oparestaurant.themes.multisiteadmin.com/
https://marketbbq.themes.multisiteadmin.com/
https://localpizzeria.themes.multisiteadmin.com/
Another option is to integrate with the restaurant's current POS (Point of Sale) system. A lot of Point of Sale systems offer an online ordering option that can be embedded into a SiteSwan website by copying and pasting a few lines of code. You'll need to check with the restaurant's POS provider to determine if this option is available.
Lastly, you can use a standalone online ordering system. There are literally hundreds of vendors out there that provide restaurant online food ordering solutions that are compatible with SiteSwan sites. 
ChowNow
, 
iMenu360
 and 
GloriaFood
 are just a few examples. You can either create an account on the restaurant's behalf, or let them sign up themselves. Then you will follow their instructions for adding a menu and adding it to your client's website. Sometimes it's as easy as creating a link, or copying and pasting some code. The drawback to this option is that the majority of these standalone systems charge a setup and/or monthly fee that your clients will have to pay.
Ultimately, there are a lot of different ways you can add online ordering, but each restaurant will have their own individual requirements, preferences, and budget. It's best to discuss these options with your client to determine which choice is best for them. Thankfully, SiteSwan is flexible enough to accommodate just about any option you choose.
Can I Use a Different E-Commerce Solution?
We designed our "Online Store" feature to be a fast, free, and easy way to start selling products on a SiteSwan powered website. It's perfect for businesses just starting out with e-commerce or for those that plan on selling a limited selection of products. It's also powered by PayPal which makes it easy for businesses who already have a merchant account.
However, if you find that the Online Store feature we offer lacks certain features or capabilities that your client is looking for, you are free to use a different e-commerce solution. While every platform is different, there are many third-party e-commerce solutions that can be integrated or embedded into a SiteSwan website. Sometimes it's as easy as adding a link or copying and pasting some HTML code.
Here are some third-part E-Commerce solutions to consider:
Shoprocket
Ecwid
Selz
Shopify
Please Note:
There may be additional fees associated with using a third-party E-commerce solution.
It is your responsibility to ensure that the E-commerce solution you choose is compatible with RoosterSites.com. For this reason, we recommend testing it with a free trial (if available) before making your client any promises
We cannot troubleshoot custom code or provide support for setting up an online store using a third-party platform.
Alternative ways to sell online
E-commerce is not cheap and requires a lot of time and resources. If your client is just beginning to sell products online, they might want to consider adding their products to an existing marketplace such as 
eBay
, 
Amazon
, or 
Etsy
 first. A marketplace is a good way to test the waters before making the commitment of running a full-time eCommerce store.