RoosterSite Design and Development Pricing!

 
ZERO DOWN!!!
*12 month commitment
LIMITED TIME ONLY!!!!   Normally $99 per month
Set-Up & Design
Professional Site Design
Fast Setup
Google Maps Integration
Connect Social Media
Search Engine Optimization
Cross Browser Testing
Connect Your Domain
Includes First Month of Service
Monthly Service
Worry-Free Cloud Hosting
Mobile Website
Search Engine Optimization
Real-Time Traffic Stats
Secure Owner Login
Make Unlimited Updates
Reliable Local Support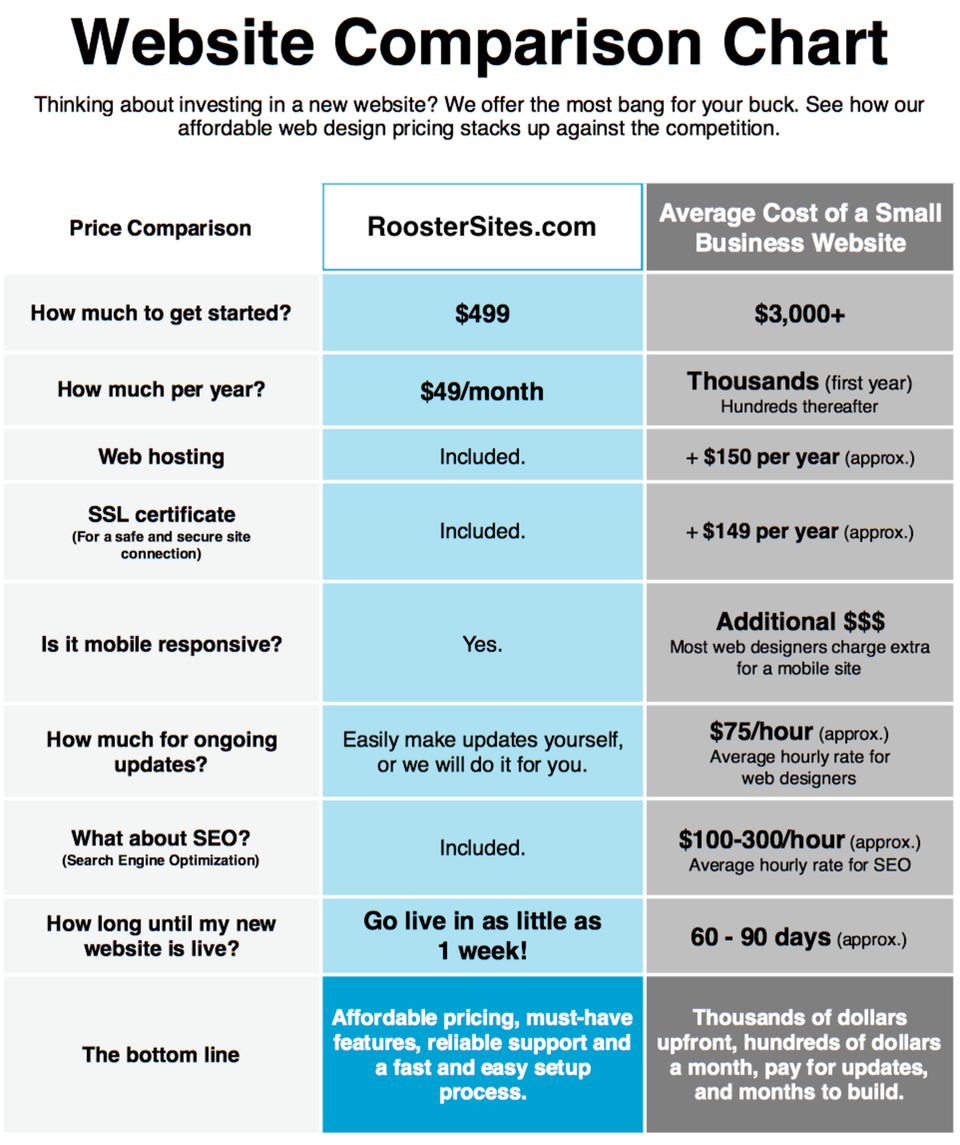 Here at RoosterSites, 90% of the time, the first question we are asked is, "What is the cost to design a website?" We understand this question because we ask it ourselves when buying a product. None of us like to hear the answer "It depends".  We want the facts, plain and simple. Although the cost of a website does depend on many variables, we have attempted to shed some light on the subject. We discuss the process of website design including our basic rates and details of how our prices are figured below. We hope this gives you a much better idea of what a website costs and provides the information you need to make an informed decision.
How the cost of a website is determined.
Website design costs can be broken down into two categories; upfront and ongoing. Upfront costs vary according to whether we provide the content or you do, whereas ongoing costs remain at a fixed price.
1) Upfront costs.
 The upfront cost is divided into two parts, the content management system (CMS) that runs your website and the content itself. In our article
How much does a website cost?
,
we discuss three methods you can choose from when designing a website: one line of code at a time, a content management system or a DIY software tool. The third method is how we build websites, allowing you to edit content on your website as easily as adding content to a Facebook page. One advantage of this method is that it allows you to focus your time on the design and written content of your website. An added bonus is that you are not required to know a programming language or learn a CMS that takes years to master. At RoosterSites, our design philosophy lets you spend your money on website content which is what brings traffic to your website.
Design. Our design fee is $699-$899, which includes a dedicated graphic artist and a client support strategist. These two team members work directly with you to build a website that not only meets, but hopefully exceeds your expectations. One freebie we have right now is a video for your homepage. Video is surging in popularity. When shoppers reach your website, you want to catch their attention and a great video that tells your story does just that.
Content. The next step to creating an effective website is adding actual content. Creating content is the hardest part of website development and costs the most time. This cost is variable according to the amount of content we create for you each month. Most businesses like to spread that cost out over several months rather than having to pay for it all upfront. Our content strategies can include photos, video production, and written content including custom articles.

Photos and video production. Many of our customers don't have high-resolution pictures or HD video. On our team we have a professional photographer and videographer who works in close collaboration with the digital strategist and you. Through quality photos and videos that tell a story, your business website is taken to a higher level with a professional look and content that speaks to your potential customers. You can view a sample video by clicking this link.

Video. Our video shooting and production range from $190 - $2,385. Why such a wide range? It depends on the type of video you need. The lower priced videos are either commercials or short videos that can be used on social media. Those types of videos range from $190 per video (52 per year), up to $890 for a one time shoot. Our shorter videos can be used on Facebook or YouTube as organic or paid posts. We can implement either strategy for you. The higher priced videos are more in-depth and last 5-8 minutes. They range in price from $685 to $2,385. Our videos can include custom voice-over work.
Photos. Our photo service is straightforward. We charge $625 for a one-time shoot. You can add our photography service to a video shoot for $95.

Written content is the best way to attract new visitors to your website. It also gives visitors the best experience. If you want to know more about why content is important, read our article Do I Need Written Content on My Website?  AllySites can develop a content strategy for your website, or you can provide all of your content. Our written content pricing includes the research and interview process with you. We will use search tools to research the best way to write content for your website. The research portion of written content creation takes longer than the actual typing of the content. Once you approve the content we create, our digital strategist will add the content to your website. When content is added to your website, it is important to link it to other pages on your website that expand on the subject. This shows readers where to go next on your site. Search engines also use the internal links to understand your content. The last step in adding content to your website is typing effective Page Titles and Descriptions.
You can expect an effective written content strategy to start at $750 but that is only a start. That amount would produce 1,500 words of content. We recommend a minimum of 30 website content pages if you want to perform well in search results. We understand allocating the budget for 30 pages of content up front is tough to stomach. We normally recommend creating at least 10 of those pages to start and spread the additional pages over several months. It is hard to say how many words you should have per page because it depends on the subject. However, a minimum word count of 300 should be established, and for your top or most competitive products you should have a minimum word count of 1000. Why so many words? Because the clearer and better you explain a topic, the higher you will appear in search results. Why? Because search engines like Google want to give their users the most relevant information which means the more in-depth you go, the better your content is for the user. The cost to create 30 pages of content would be $12,000.
To learn more about website content topics read our article 
Content Ideas for Your Website
, which explains how we tackle content creation.
2) Ongoing costs. 
Your website's ongoing costs can vary depending on your needs, but we have shown examples below to make it clearer on how those costs are calculated. As previously stated, the ongoing cost to maintain a website we have developed doesn't vary. Our minimum charge per month is $49. The $49 includes our digital services team's support, updates to the software running your website, and SSL certificate and hosting.
What makes up the $49?

First, our digital strategist team offers great value by being your "phone a friend." We believe in responsive customer service and always have a real human answer the phone. You won't find a team more eager to help you than ours. Read our Google Reviews if you want references. We could offer inferior customer service by lowering our monthly fee but then we would not be meeting our expectations.
The second part of the $49 is constant software upgrades. Internet browsers like Chrome, Internet Explorer (IE), and Safari are frequently updated along with mobile phone operating systems like iOS and Android. These updates require us to evolve the programming code running your website, or your website won't work right on those platforms. Traditional website programmers would charge an hourly fee to make these updates but we don't. This allows you to budget your website cost without having to make the call if we should upgrade the software running your website. The constant updates combined with an SSL certificate keep your website secure and looking great to all your visitors.
The last part of the $49 is hosting. Our hosting includes running your website on servers at RackSpace/AmazonCloud and maintaining those servers. This is another place we don't skimp on cost. We place your website on the same types of servers that run our review management software (805 Reviews) which handles thousands of pageviews a month.
Now let's summarize these costs to make your decision easier. We want to create the ultimate transparency for you when it comes to website design cost.
Basic Website Design
 (you provide and do the content research)
Website Graphic's Design - $699 (this includes a dedicated graphic artist and digital strategist)
Monthly Subscription - $49/month
Pro Website Design 
(RoosterSites does the research and provides the content)
Website Graphic's Design - $899 (this includes a dedicated graphic artist and digital strategist)
Written Content Creation - $750 to $6,750 (can be spread out over time)
Video Content Creation - $890 to $8,840 (can be spread out over time)
Monthly Subscription - $49/month
100% custom site!
HTML5 Platform, hosted on AmazonC, platform fee $79 ann.,
Awesome local support. Local Developers, Local Designers.
Premium SEO features..  Perfect for corporations, and those who want a more unique look and feel for their brand.  Have a vision?  Let us put that vision to work for you.